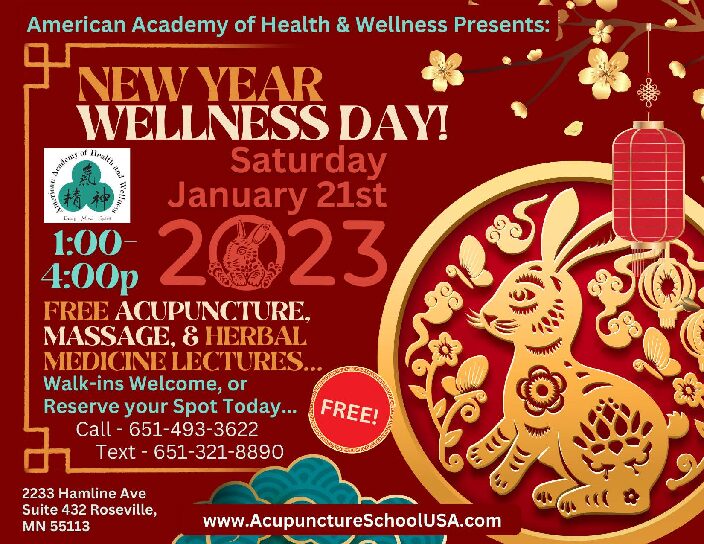 As the only independent Acupuncture and Traditional Chinese medicine school in Minnesota, we pride ourselves on the quality and depth of our programs.
Join us in celebrating the Year of the Rabbit for the Chinese/Lunar New Year 2023! American Academy of Health & Wellness (AAHW) invites you for an afternoon of:
* FREE Acupuncture
* FREE Massage
* FREE Herbal Medicine Lectures
* FREE Refreshments, and MORE!
Make your health and wellness a top priority this year and always. Come
learn about how acupuncture and herbal medicine can help you on your
path to better health and wellness!
This event is totally FREE and open to the public!
Walk-ins are welcome, though space is limited so feel free to RESERVE
YOUR SPOT in advance!
Text: 651-321-8890 to reserve your spot!
For more information click here.
Visit our website for more information about our Acupuncture School and the Student Clinic at AAHW!!: www.acupunctureschoolusa.com
Saturday January 21st, 1-4pm
AAHW Student Clinic
2233 Hamline Avenue N. Suite 432
Roseville, MN 55113
Licensing information:
Acupuncture is legally recognized in 47 states plus the District of Columbia. *Some states do require MAOM to obtain a license. Visit the NCCAOM website to check state requirements.